Believe it or not I some how convinced my family and was convinced at the same time to run a 5K. I had toyed with the idea for a while and had talked with my family over entering the KECC 5K and they encouraged it. In fact, my  daughter wanted to join me also. Of course, not to be outdone my 5 year son wanted to join in on the fun but he could only do the Toddler Trot which was fine by him initially.
As the time approached my son waffled back and forth so I held up for registering for it which only severed to create more anxiety in me. Eventually, he decided he would do it once he found out that some of his other friends were going to do it. So, I turned in the registration only for my wife at this point to decide to do the 5K also because the organizers were going to provide childcare due to low initial registration turn out, otherwise, she her plan was to watch our son while I and my daughter ran the 5K.
So, the night before the big morning we went over our game plan. Every man for him or herself. We figured that I would end up running ahead since I had been self training running longer and longer distances were as my daughter was marginal running and wife, "running is not my thing" kept coming up. So, the plan was set, I would run at my pace, daughter at hers and wife would probably follow up the rear and everyone would stay on course till the end.
May 1st, 2016 – the day of the big race we all had to get up early. Yes, 7:30am race time meant we had to get up at 6:15am to get out the door and there on time. This is one of earliest times we've had to get up on a Sunday.
When we arrived there were activities going on and all kinds of excitement in the air. After a brief wait and some instructions from the organizers we all gathered at the starting line.
As we started the run my daughter took off in the lead only to eventually slow down repeating "water, water, my head hurts". I told her after my pace eventually caught up to her that she should have paced herself and not took off too fast. I told her that earlier but I guess she forgot.
1 mile in and her and I were running and walking together and she got water at the first water station. We continued this pattern however, the walking became more frequent and was beginning to hurt my knee and I told her as we reached the half way point that I could no longer walk at this pace and reminded her of our plan. So, off I went at my pace picking up speed and continuing on.
As I passed the 2nd water station grabbing a cup of water I realized something – neither my side was hurting nor did I feel like I was out of  breath so I actually picked up my pace a little more.
Knowing the finish line was withing 2 blocks I started moving at a good pace as I could make it without any ill-side effects. Unbeknownst to myself though I did have one, my shoe came untied so I had to stop and tie it which allowed the 3 ladies in from of me to get out of passing range.
I crossed the finish line at 29:39 (30th place) which was a personal record for me in not only time but also my first 5K.
My daughter kept going and completed her main goal – to beat mommy. Her time was 38:01 which she could have came in under 38 (50th place) if she wouldn't have walked across the finish line – doh!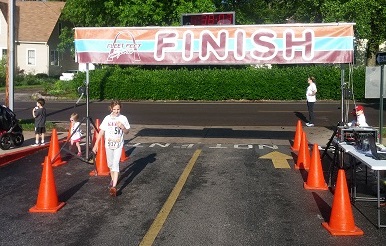 Following up the rear not far behind was my wife – at 40:40 (56th place).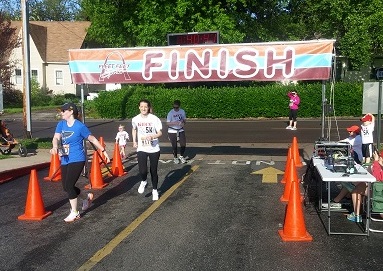 This as it turns out was a real confidence booster for me as not only did I place 30th in the entire race but also 22nd for males and 3rd in my age group. Wow, I couldn't believe it. I had went from being short winded 3 months before after just running a quarter mile to being able to run 3.1 miles without cramping or short winded. Yes, I was still just as sweaty as day 1 but that's just me if the temperature is too high there's a moderate amount of physical activity.
This has also made me proud that my family partook in this event and more so, we accomplished it together. Wow, such an achievement for the 3 of us!
Our son in the meantime was playing with his friends and other "toddlers" prior to his big Toddler Trot aka, 100 Yard Dash which would soon follow. They all were making various things and Froot Loop rings which he was charging up his batteries eating Froot Loops prior to his run.
I'll skip ahead all the age groups of 2-4 and up to my son's 5 year old age group and all the kids were lined up at the starting line. Once the countdown reach GO the kids were off. My son had high aspirations of being number 1 but I believe all the kids did. I will say he ran just as hard as the rest of the pack that led the entire group as his shirt can attest to. He and all these other little boys that were in the lead literally had mud and water spots up their backs including their necks and ears! Fast enough to spray up from their shoes – running their hearts content out.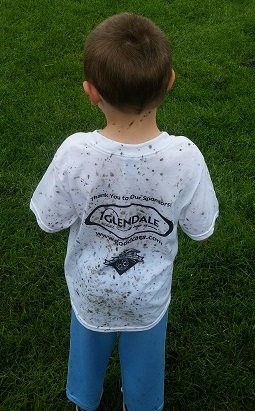 So, he didn't finish first but he finished which I think made him feel good. As with most "child" races all the little ones got their plastic 1st place medals that they were proudly showing their families and wearing.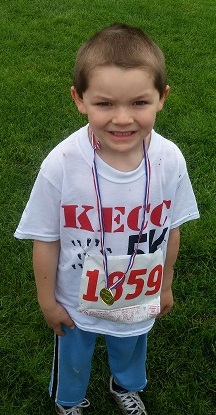 So, after all the anxiety and stress I could put on myself things turned out pretty good. In fact, I would say they were great because my entire family accomplished more that morning than I would have ever thought we would. After all, this started out as an idea of me running a 5K which turned into an entire family event.
Kudos to us for a job well done!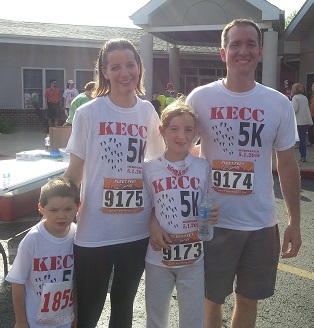 The entire race results can be found here: KECC 5K